Our mind creates powerful connections between scent and our emotions, surroundings, and memories. Diffusing essential oils is a simple but effective way to access those connections. It can also help build new and positive memories and experiences.

Because diffusion distributes essential oil molecules into the air so effectively, it is an excellent way to maximize the beneficial properties of essential oils. There are lots of different ways to diffuse, so let's talk about the most effective methods. It's important to note that overheating essential oils using aroma lamps or candles can render the oils less beneficial, so we'll focus on different cold-air diffusion methods.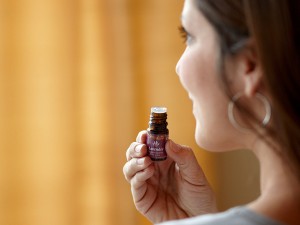 Direct Inhalation
You may simply open a bottle of essential oil and inhale or put a few drops of oil on the palm of your hand, rub your hands together, and then cup your hands over your nose and mouth and inhale. You can even add a few drops of oil to a bowl of hot (not boiling) water and inhale the vapor.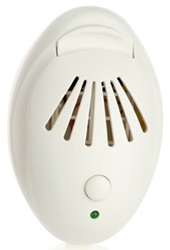 Cold-Air Fan Only available in the U.S.A.Young Living's Travel Fan Diffuser introduces convenience and portability to essential oil diffusion. The Travel Fan diffuses by blowing cool air through the essential oil pad, releasing beneficial essential oil molecules into the air.
Ultrasonic Diffusers
Ultrasonic diffusion combines the advantages of a humidifier, air purifier, atomizer, and aromatherapy diffuser into one by breaking a mixture of essential oils and water into millions of microparticles and dispersing them into the air. Young Living has several ultrasonic diffusers with features our members love, such as: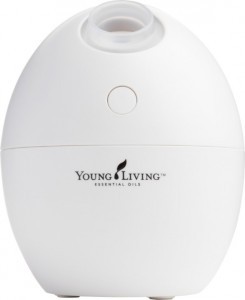 USB Orb™ Diffuser: Only available in the U.S.A.:  I have this and I LOVE it. It's my personal favorite for use in "my own" space. I use it on my portable charger power bank (Amazon.com) (Amazon.co.uk) and then it's super portable. Great for your nightstand too because it's very quite.The portable Orb™ Diffuser is specially designed to be spill-proof, making it ideal for the office, the car or at home, and provides intermittent blue LED light or continuous green LED light diffusion for up to 4.5 hours. This diffused molecules cover up to 4.5 square meters or 50 square feet.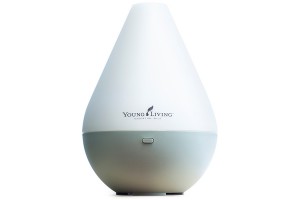 Dewdrop™ Diffuser: Custom designed with up to four hours of continuous run diffusion, automatic shut-off, and ambient light control, Young Living's Dewdrop Diffuser can transform any space into a spa-like atmosphere. This diffused molecules cover up to 30 square meters or 323 square feet.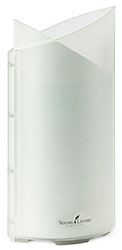 Bamboo™ Diffuser: Only available in the U.S.A. Premium Starter Kit: The Bamboo Diffuser utilizes ultrasonic technology to break up the mixture of essential oils and water into extremely fine microparticles and disperses the ingredients in essential oils into the air. Includes; an LED light; an elegant, bamboo-inspired design; and timer settings for 1 or 4 hours of continuous diffusion. The diffused molecules cover up to 30 square meters or 323 square feet.
Aria™ Ultrasonic Diffuser: The Aria combines the latest in ultrasonic technology with a variety of useful features. The included remote lets you choose from a selection of soothing, built-in sounds or enjoy the multicolored LED lights. With the built-in speakers, you can plug in your own personal music player and enjoy the music of your choice. The diffused molecules cover up to 40 square meters or 430 square feet.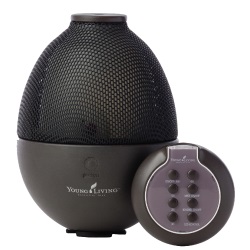 Raindrop™ Diffuser  The Rainstone's elegant design and handcrafted artistry make it an exquisite piece of art to complement any décor and transform any space into an inviting, aroma-filled atmosphere. Includes; continuous ultrasonic diffusion at 1.7 million waves per second; 1, 2, 3, 6, and 8 hour settings with automatic shutoff; five soft LED light settings (blue, yellow, purple, alternating each color, and off); a negative ionizer; and a remote control. The diffused molecules cover up to 30 square meters or 323 square feet.
Atomizing Diffuser 
If you want to reap the most intensive benefits from essential oils, check out our newest diffuser, the AromaLux Atomizing Diffuser. This Young Living exclusive turns undiluted essential oil into microsized particles that fill a space quickly, no water required.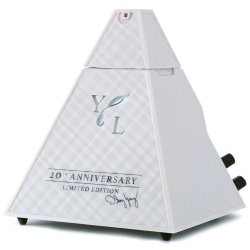 AromaLux™ Atomizing Diffuser: I have this diffuser it was a lovely gift from Young Living that I enjoy using in larger spaces, it's very effective and I love the design. You can diffuse 5ml or 15ml bottles and you can make your own diffusing recipes in 5ml or 15ml bottles. Atomizing technology transforms essential oils into a vapor of millions of microparticles, dispersing the powerful, undiluted plant constituents found in Young Living essential oils into the air with no water added. Includes an array of features and settings, including our highest vapor output, our most customizable volume and run time settings (with automatic shutoff), and a quiet motor.