About Being A Member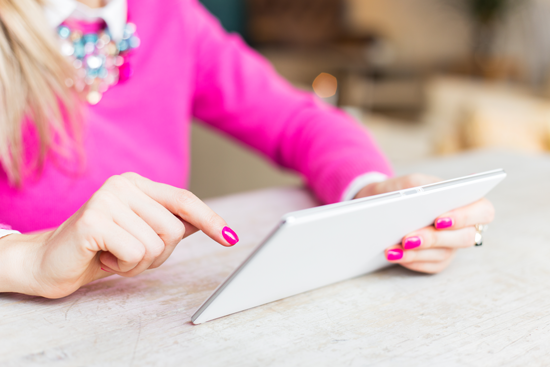 If you would like to purchase Young Living Essential Oils, you can do so by ordering retail from me OR you can "Become a MEMBER" and GET 24% OFF PRODUCTS.
What does it mean to become a member?  Simply put, members begin by purchasing a Starter Kit and then have the option to save 24% off all future purchases!  Members also get the opportunity to enroll in Essential Rewards, which provides discounts and bonuses simply for purchasing your favorite products each month!
Members also get the opportunity to introduce others to Young Living and make great commissions on their purchases.  I really do believe that once you use the oils, you will talk about them and your friends will want to start using them too. Even though you are never obligated to sell anything, you may end up selling naturally by simply SHARING YOUR STORY of how essential oils help you and the ones you love!
A Common Misconception
As a Wholesale member of Young Living, you're not expected to sell anything at all. Being a Wholesale Member only means that you're purchasing the oils at a 24% discounted rate.
When you consider becoming a Young Living Wholesale member, understand that there are no other obligations, no minimum purchases, no membership fees, you're never required to sell anything, just enjoy the member benefits of purchasing all your future products at 24% off retail pricing.
Your Young Living Wholesale membership grants you a few things:
Save 24% on every Young Living purchase.
Save even more with Essential Rewards, up to 25% more.
Earn free products with monthly promotions.
No monthly obligations or membership fees.
Becoming a Wholesale member is done through purchasing a 'starter kit'. These kits come in various shapes and sizes, but there is one kit that is best designed to get you started on your path of a healthier life – Learn More About The Best Starter Kit for USA or Europe. This kit is the best option if you want the most for your money. This kit ends up saving you a lot of money to get started and you'll find that you'll use all of these oils every day.
Notice
The term 'Distributor' does not mean you're required to sell anything, ever, unless you want to. It is simply the name of the Wholesale membership plan.
When you consider becoming a Young Living member, it's important to understand that you're under no obligation to sell anything, unless you want to. The membership offered by Young Living is there to give you two simple things:
An affordable package to get started with oils.
Tools to share your experience with friends.
NO OBLIGATIONS
When you consider becoming a Young Living Wholesale member, understand that there are no obligations other than purchasing 50PV per year worth of discounted essential oils to maintain the membership. PV is 'Points Value/Personal Volume' and is a unit of measurement generally equal to one dollar and is used for things like Essential Rewards.
---
How to Become a Member
The information below is what the "Become a Member" process looks like. When you have viewed the information below you can click on the "Become A Member" button and it will take you to the membership information page where you can type in your membership information. 
Step 1  – Let's Get Started!
Click the Become A Member button to start the process!
Step 2  – Member Signup page
A) Make sure "Member" is checked instead of "Retail Customer." (Becoming a member is the only way to get access to the kit and the 24% discount you get afterwards. It's really important!)

B) Choose your Country and Language.
C) Please list me as the person that introduced you to Young Living, by sharing my Distributor # in both the Sponsor ID and Enroller ID fields.  My number should already be in those fields, but if not, you can get it from the top of this page.
D) Click the "Continue" button
Step 3  – Starter Kit and Essential Rewards
A) Starter Kits are an amazing value and Young Living has put together a wide variety of options, so you are sure to find exactly what you want!  Unsure of which kit to select?  Check out my Starter Kit page for Europe or USA, where I talk all about the different options available to you!
B) After selecting your Starter Kit, it is time to review Essential Rewards, Young Living's optional monthly shipment program.  Essential Rewards is an awesome way to get your favorite products delivered to you monthly while getting product discounts, bonuses, and reduced shipping fees.  There is no obligation to join Essential Rewards, but with the great savings combined with the ability to change or cancel orders at any time, there's no reason not to get started today!  Check out my Essential Rewards page to learn all about the benefits of this amazing program!
C) Want to add more products to your order?  Simple!  Just click the "Add More Products" button.  Ready to continue enrollment?  Click "Next".
Step 4  – Information Page
A) Fill out your contact information.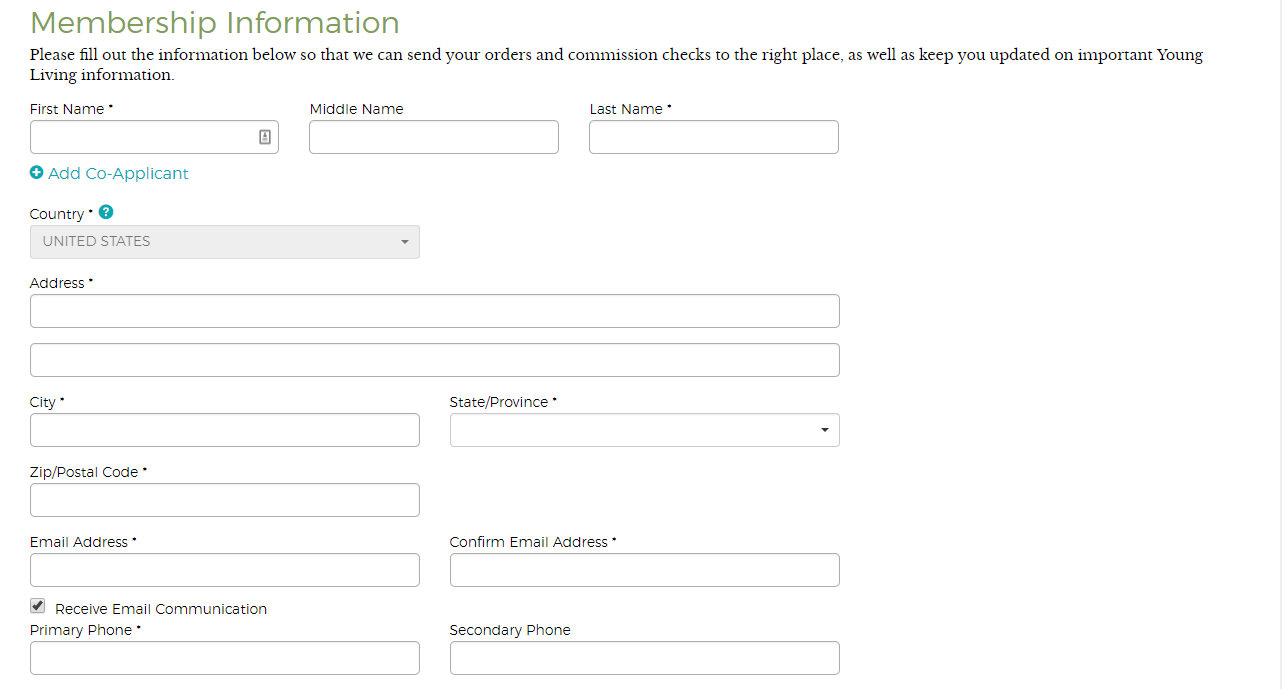 B) Make sure you write down your username, password, and PIN#. You will need you username and password anytime you login and your pin when you call into Member Services.

C) Complete your Commission Processing Information
OK, so no one likes to talk about taxes, right?   Fortunately, this isn't a scary subject and Young Living makes it really simple!
If you are planning on purchasing Young Living products only or if you are expecting to sell less than $600/year, choose the Individual (no social security number) option.
As your business grows or if you plan to jump in and sell more than $600/year, choose the Individual (with social security number) option.
If you are selling under a business, then choose the Business option.
If you are unsure, choose the Individual (no social security number) option.  It's easy to change that selection later as your needs change!
D) Check "I have read and agree to the terms of the Young Living Essential Oils Member Agreement."
E) Click "Agree and Continue" button
Step 5 – Shipping and Billing
A) Select your preferred shipping method, double check your shipping address and enter your billing information.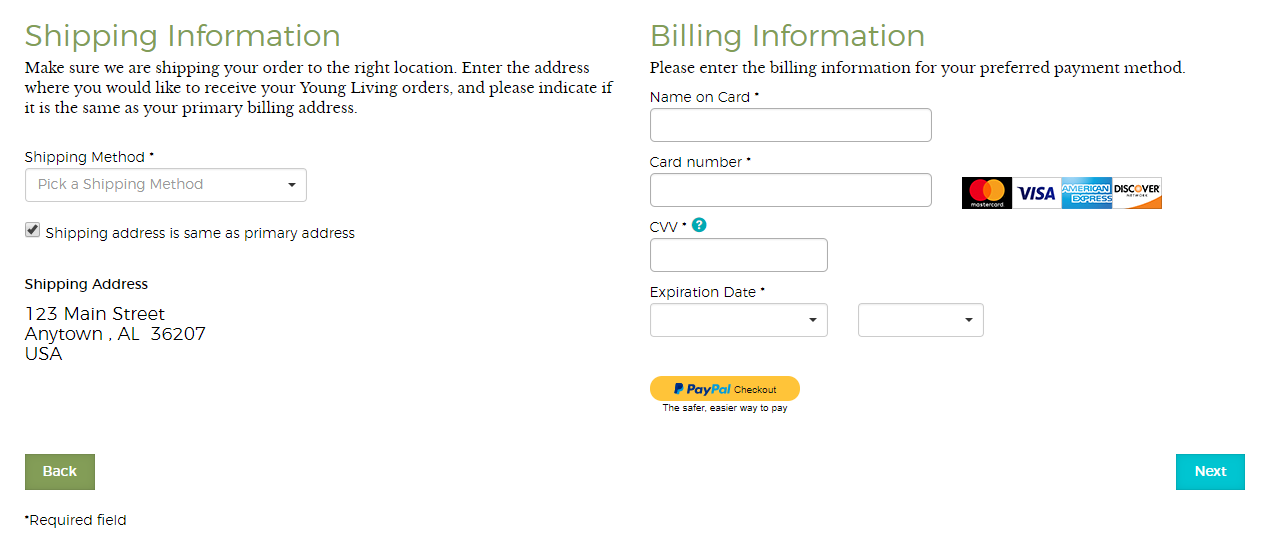 B) Click the "Next" button
Step 6  – Enrollment Summary
A) Confirm all of your information is correct.
B) Click the "Activate and Place Order" button.
You are DONE!
I remember how excited I was to receive my starter kit. Your membership will stay active as long as you spend at least $50 in a calendar year.
Get Started Today Premium Starter Kits Europe Premium Starters Kit USA Contact Me